Mission City Stewards Club
Mission City Stewards Club

Dog Show Professionals

We work hard to be the BEST

Mailing Address:

   Mission City Stewards Club, Inc.

   P.O. Box 47845

   San Antonio, Texas 78265-3757

Fax:     (210) 599-6302

E-Mail:  corkyandgracie@yahoo.com

This page was last updated: April 10, 2016
The Mission City Stewards Club, Inc. (MCSC) is a professional service club, providing dog show ring steward services. Business is conducted under contract, both with sponsoring dog fancy organizations, and with MCSC membership. The organization is based in San Antonio Texas, with membership and contract steward services throughout Texas.

MCSC has grown to an active membership of over 80 trained professionals, entirely through word of mouth and public exposure at dog shows. Our membership hails from all over Texas, so if you are interested, check out the Members Pages link to the left.

Ring Steward

A judge's assistant who is tasked with coordinating the logistics of getting the exhibitors and their dogs into and out of the rings efficiently. Stewards check in the exhibitors, answer questions about ring procedures, call in the classes, prepare the ribbons and trophies for distribution, and maintain their own marked catalogs as back-up documentation for official placements. Stewards are responsible for the smooth operation of their rings, and the comfort of the judges they are assigned to assist.

President:              Pat Knutson

Vice President:     Debby Wood

Treasurer:              Robert Stein

Recording               Donna Stein

    Secretary:          (210) 364-4983

Corresponding      Corky Turner     Secretary:          (210) 317-7356

Board Members:   Heather Gomez

                            Kathy Krnavek





   Mike Simpson
Newsletter:

    Corky Turner

Web Site:

    Michael Simpson

Copywrite 2005, 2006, 2007, 2008, 2009

2010, 2011, 2012,2013, 2014, 2015, 2016

Mission City Stewards Club, Inc.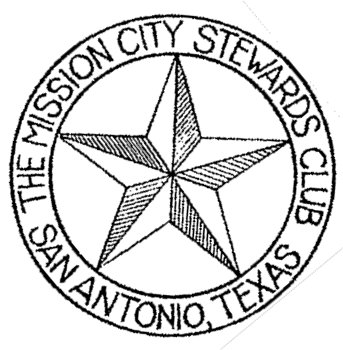 Please Contact

Corresponding

Secretary for contracts